JOURNAL by Claude Vivier
16 May 2018 at 19.00
Grünewaldsalen, Stockholm Concert Hall

Hannah Holgersson, soprano
Maria Sanner, alto
Thomas Volle, tenor
Staffan Liljas, bass
Eric Ericson Chamber Choir
Fredrik Malmberg, conductor
Reine Brynolfsson, actor

CONCERT INFORMATION
Hannah Holgersson performs music by Jan Johansson during the Baltic Sea Festival 2018.
More info on: a-swedish-jazz-legend
COMPOSER FESTIVAL
A WINTER'S EVENING

Songs and orchestral dreams with Thea Musgrave.

Friday 23 November 2018 19.00
Stockholms Konserthus, Main Hall

Norrköpings Symfoniorkester
Dalia Stasevska, conductor
Ellen Nisbeth, viola
Hannah Holgersson, soprano

CONCERT INFORMATION
COMPOSER FESTIVAL
THE SEASONS

Songs by Thea Musgrave.

Sunday 25 November 2018 15.00
Stockholms Konserthus,
The Grünewald Hall

Musicians from the Royal Stockholm Philharmonic Orchestra
Nicholas Daniel, oboe/english horn
Hannah Holgersson, soprano

CONCERT INFORMATION
New song recorded and released!
Välkommen du underbar (Welcome wonderful you)
by famous film music composer Per Andréasson.
Film, photo and layout by Lars Köhler.
Listen to the song HERE!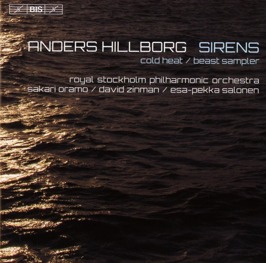 A new album with music by Anders Hillborg is released. Contemporary classical music at its very best!
Hannah Holgersson contributes with her voice on O dessa ögon and on Sirens. Both pieces were recorded during the Composers Festival in November 2014 at the Stockholm Concert Hall, with the Royal Stockholm Philharmonic Orchestra. Conducting were Sakari Oramo and Esa-Pekka Salonen.
Participating in the piece Sirens are as well soprano Ida Falk Winland, the Eric Ericson Chamber Choir and the Swedish Radio Choir.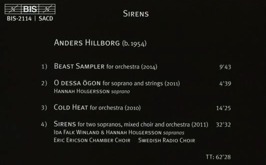 Read comment »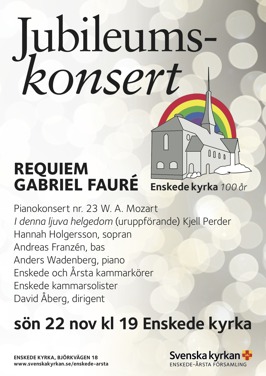 Enskede Church is celebrating 100 years! For this occasion new music is composed by Kjell Perder; I denna ljuva helgedom. The celebration program also includes a piano concert by W A Mozart and the Requiem by Gabriel Fauré!

Hannah Holgersson, soprano
Andreas Franzén, bass
Anders Wadenberg, piano
Enskede and Årsta chamber choirs
Enskede kammarsolister
David Åberg, conductor

November 22nd at 19:00, Enskede Church

https://www.svenskakyrkan.se/enskede
Read comment »
AVE MARIA
Ave Maria
, an EP containing three of our most beloved Ave Maria songs; by
G Caccini
,
F Schubert
and
Bach-Gounod
.
Order your Ave Maria album HERE
Anne • 30 april 2017 22:29:11

Fantastisk Blogg du har. Vad kul att följa dig här. Lycka till framöver, kram

Philip Seddon

• 18 februari 2016 15:45:34

Hannah - Even though I am fairly well versed in all sorts of classical music, I have never heard of you (or Anders Hillborg) before, I'm sorry, but heard you singing O dessa ögon this morning on BBC Radio 3 (with Sakari Oramo) and was absolutely transfixed. An amazing composition by Hillborg, but an even more amazing voice of yours, with - especially towards the end - those near-, below- and beyond- octave leaps sung with absolute security, sharpness and clarity, and with a wonderful interplay of absence and presence of vibrato. What a beautiful, transcendent sound! Thank you so much! :-) :-)

Anne-Marie Brinck

• 17 december 2015 14:11:12

Hej Hannah
Ville bara säga Grattis till alla fantastiska framgångar.
God jul önskar
Anne-Marie


Anders Östberg

• 3 november 2014 09:59:04

Hejsan Hannah,

Vill gärna tacka för gårdagens uppvisning i Matteuskyrkan. Det var en upplevelse att få vara med om detta och något av det vackraste jag har hört.
Fantastiskt samspel mellan dig och orkestern, och jag satt som tur var bra till precis framför dig och kunde också SE dig sjunga. Så vackert! Tack för den gåshuden!
Lev väl,
Anders

Anders • 2 november 2014 21:27:22

Tack för en underbart bra konsert ihop Hannah, vilken stämning det blev och din röst utvecklas i en sådan fin rikting. Lååånga linjer som bär.Lysande. Hoppas vi hörs snart och välkommen hit och lyssna när det blir dags: www.waldemarsudde.se/evenemang/konserter