This past Sunday I was part of a soulful celebration of all children of our world! I am grateful of being part of this great Love message by singing African Madonna by Felicity Laurence in Oscarskyrkan, Stockholm.
We had the honor having both Felicity and Kimmo Eriksson (Swedish lyrics) in the audience!
Thank you Ulla-Carin Börjesdotter for beautiful singing, to Hanna Sandman, Helle Rosenborg and Pär Olofsson for great leadership, playing and conducting. Big thanks to Jenny Ajland for just amazing dancing and inspiring output! And thank you all choirs and musicians participating for lovely singing and playing!
Go to blog post »
This past Friday I had a great evening at Nationalmuseum, Stockholm, performing classical music, film music and west coast music together with fantastic co-musicians Joakim Holgersson (piano), Kristina Ebbersten (violin), Andreas Forsman (violin), Anna Manell (viola).and Adina Sabin (cello). Co-singer was amazing Andreas Weise.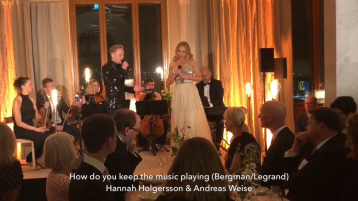 Go to blog post »