I am sad to tell you that all my concerts with Marinens Musikkår (the Royal Swedish Navy Band), conductor Alexander Hanson and with host Lars Hjertner are cancelled this week, due to coronavirus…
We hope though to do music together soon again…
Until then I wish, hope and pray for health and recovery!
https://marinensmusikkar.se/
Go to blog post »
Today I met with brilliant Marinens Musikkår (the Royal Swedish Navy Band) and conductor Alexander Hanson for rehearsal of upcoming concerts! Wonderful to be back in beautiful Karlskrona and to do music again with this amazing ensemble!
Go to blog post »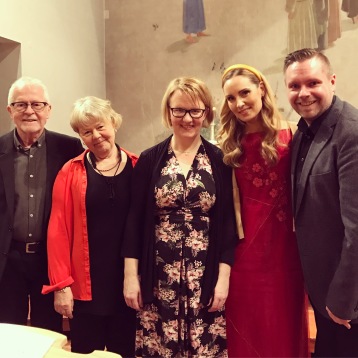 This past Sunday I had the honor singing with Hässelby Kammarkör and conductor Karin Krigsman Järnskoog in Hässelby Villastads kyrka, Stockholm. Together with excellent instrumentalists Paul Höglander, Cecilia Olsson and Jörgen Lindström we created a colourful concert with world music, folk music and Missa Nova Sofiae by contemporary composer Nina Åkerblom Nielsen.
Tomorrow I will meet Marinens Musikkår (The Royal Swedish Navy Band) again! We have made many wonderful concerts together through the years and this time we will go on a short tour with music connected to the journey at sea made by Horatio Hornblower (from the story by C. S. Forester). Alexander Hanson is conductor and the concert host is Lars Hjertner.

Here below some concert memories with Bromma Folkhögskola, where I teach singing, from the beginning of this year!
Go to blog post »