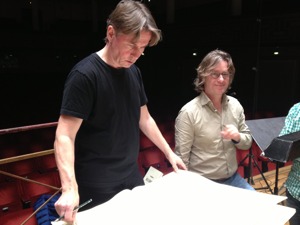 This week is the upbeat to the
Composers Festival of 2014
with the
Royal Stockholm Philharmonic Orchestra
, at the
Stockholm Concert Hall
. The festival is this year dedicated to
Anders Hillborg
and his music.
Tonight is the opening concert conducted by maestro
Esa-Pekka Salonen
. I will, together with soprano
Ida Falk Winland
, the
Eric Ericson Chamber Choir
, the
Swedish Radio Choir
and the
Royal Stockholm Phiharmonic Orchestra
perform one of the true masterpieces by Hillborg;
Sirens
.
During the past days we have been rehearsing
Sirens
and as well prepared the live recording of the piece. Tomorrow there will be a complementary recording session without the audience.
Ida Falk Winland
Esa-Pekka Salonen
Kungliga Filharmonikerna
Eric Ericsons Kammarkör
Radiokören
Welcome to give your comment: